How to Measure Bra Size
Erotic underwear can make your sex doll more attractive and stimulate our sexual desire,We know it's tempting to go on a lingerie shopping spree before you meet in the flesh so if you can't resist, at least use this as a guide and go for stretchy material just in case!
How to Measure Bra Size in 3 Steps
There's much more to measuring your bra size than just grabbing a measuring tape and marking down a band size (if only it were that simple!). In the next three steps, we'll go into measuring your band size, then your bust size, and lastly, your cup size.
Determining the correct – and most current – measurements for your band, bust, and cup will make it SO much easier for you to find bras that fit right, and fit you, no matter where you get your bras. Plus, with those measurements, you'll finally get confirmation to toss out or donate those bras in your drawer that you've been keeping just to keep.
Step 1: Find Your Band Size
Make sure to wear a lightly-lined or unpadded bra before measuring your band size. Take out a measuring tape and wrap it snugly across your back, keeping it parallel to the ground, and measure directly under your bust. Round down to the nearest even number and note your band size.

Step 2: Measure Your Bust Size
Keep the measuring tape around your back at band level and measure across the fullest part of your chest, making sure to hold the measuring tape snugly against you and parallel to the ground. Take a few deep breaths to let the tape rest on its most comfortable position (but not too loose!). If it falls on the half-inch, just round up. That's your bust size!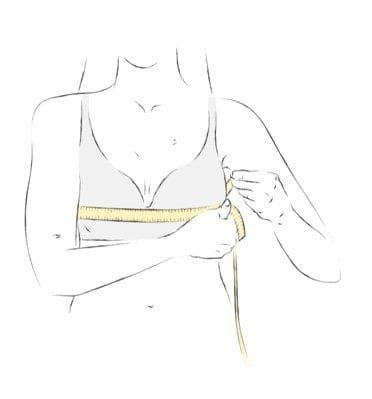 Step 3: Determine Your Cup Size
Determining cup size is where things can get tricky because cup sizes can vary depending on the maker. The most common way to calculate your cup size is by subtracting your band size from your bust size and using the difference to find your cup size according to a bra size chart.
Bra Size Chart
It's not uncommon to have different sized bras from one brand to another. That discrepancy happens because different bra sizes often have similar measurements with slight variations in cup and band sizes.
So, let's get down to the nitty-gritty of your bra size. Start with your current bra size and use the chart below to help refine your bra size estimation and fit.